Musa212
The Phone Booth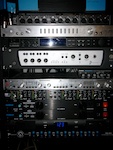 There's no hiding the fact that our studio is small. In fact, we named it The Phone Booth because of its dimensions... hey, it's New York, whatcha gonna do? That being said, it is in a quiet space in an easily accessible, central Manhattan (Hell's Kitchen) location. And, despite its size, we have lots of fun toys to help you get the sound you're looking for.
Below is a list of items you are welcome to use during your sessions.
Instruments & Controllers
Doepfer LMK2+, 88-key hammer-action keyboard
Takemine steel-string guitar
Raymundo classical guitar
Fender Jaguar, 2008 reissue
Kentucky KM-675 Mandolin
Lanikai Ukulele
Korg PadKontrol
M-Audio Axiom 49
Hardware
Neumann TLM 193 condenser mic
AKG C414 XLII condenser mic
Audio Technica 4047 condenser mic
Neve 517 (Portico) preamp
Purple Audio BizMk preamp
DBX 386 Dual Vacuum Tube preamp
Apogee Ensemble
Digi 002-r
Shure SM57 dynamic mic
Shure Beta 58 dynamic mic
SE Electronics Reflexion Filter
Boss GT-6 Multi Effects Pedal
Software
Logic Pro
Pro Tools
UAD-2 processors and effects
Synthogy Ivory II Grand Pianos
Native Instruments Komplete 7
FXPansion BFD 2 drums
Spectrasonics Trilian bass
… and many more virtal instruments and effects!